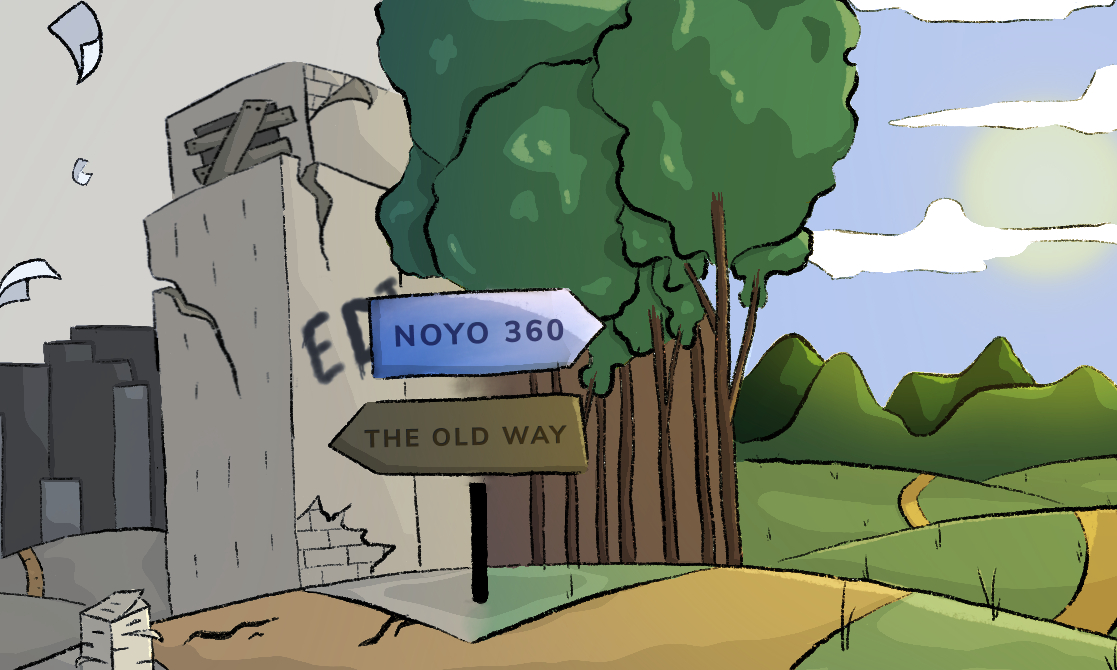 DATE:

AUTHOR:

Nicole Shelby
Noyo 360: crafting a seamless experience from end to end
DATE:
AUTHOR: Nicole Shelby
When we launched Noyo three years ago, we set out to fundamentally change how people experience insurance. We created breakthrough API technology that automates member enrollment–a complex and time-consuming aspect of benefits administration–so that benefits software platforms could build fast, flexible, and embeddable member experiences.
Now, industry leaders work with Noyo to retire outdated methods of data exchange and harness the power of new technology to better serve their customers and partners.
The success of our Enrollment solution highlighted how urgently transformation is needed across the entire process of insurance policy administration. Realizing the promise of truly connected insurance requires reimagining the foundational infrastructure for the entire lifecycle of a policy from first installation all the way through renewal.
Noyo 360, our newest solution, does just that. We're expanding our breakthrough technology to the entire policy lifecycle and making it possible for benefits software platforms to build new experiences like fully digital group applications, one-click policy activation, and hands-free open enrollment.
Noyo 360 includes three new offerings–plus access to our flagship product for member management–to streamline policy administration and improve your customer's experience:
Policy installation (new!) - Get key group and plan information to carriers quickly and easily–no paperwork required.

Case setup (new!) - Take the complexity out of group configuration and data mapping to shorten the time from installation to enrollment.

Member management - Ditch slow, error-prone file feeds and automate initial and ongoing member enrollment.

Renewal (new!) - Easily communicate plan decisions and ensure up-to-date policy, group, and member data in advance of open enrollment.
Benefits software platforms can deliver a new world of elegant, intuitive policy administration experiences to their clients and leave slow policy installation processes, complicated group setup, and confusing open enrollment requirements behind. Sign up now for early access to Noyo 360 and activate the industry's best connections to leading insurance carriers.
For insurance carriers, click here to learn more about how Noyo's technology can unlock a new generation of benefits experiences for your distribution partners.