DATE:

AUTHOR:

Nicole Shelby
Command Center
Fixes & improvements
Closing out 2022 with Noyo
DATE:
AUTHOR: Nicole Shelby
Happy holidays! The end of the year is the perfect time for us to express our gratitude for all of you, our partners: thank you for being collaborators on our mission to make it easier for people to understand and use their benefits. 
This was a big year for Noyo: we expanded our Sync carrier network, released exciting new tools, and charted an ambitious path forward in the benefits space. Now we're closing out the year strong with two updates and a sneak peek of what's up first for 2023.
Easily retry a group connection
You can now retry unsuccessful group connections in the dashboard instead of needing to reach out to Noyo Support. If a group connection request is unsuccessful (often due to an incorrect carrier group ID or an authorization issue), you will get an error message in the dashboard along with a "Retry" button.  
When you click "Retry" an option will appear to review and correct the submitted carrier group ID.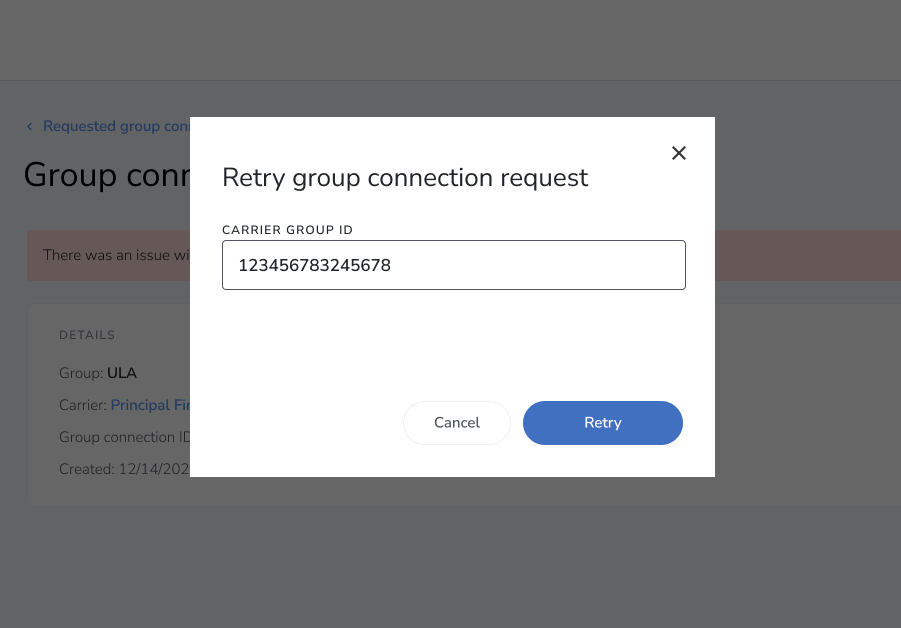 Once you've submitted the new value, we will attempt to connect the group again.
Also added: carrier configurations
We've also added carrier configuration information to the dashboard so you can understand the shape of a group at a glance and ensure that enrollments are successful. This is especially handy if you're using the Noyo tool for account structure mapping, but even if you're not, it eliminates the need to email carriers when you want to compare a group's structure with what's in your system. 
Carrier configurations like subgroups or bill groups are always available via API, but can now also be accessed via the "Configuration" button in the "Carriers" tab on a connected group's detail page.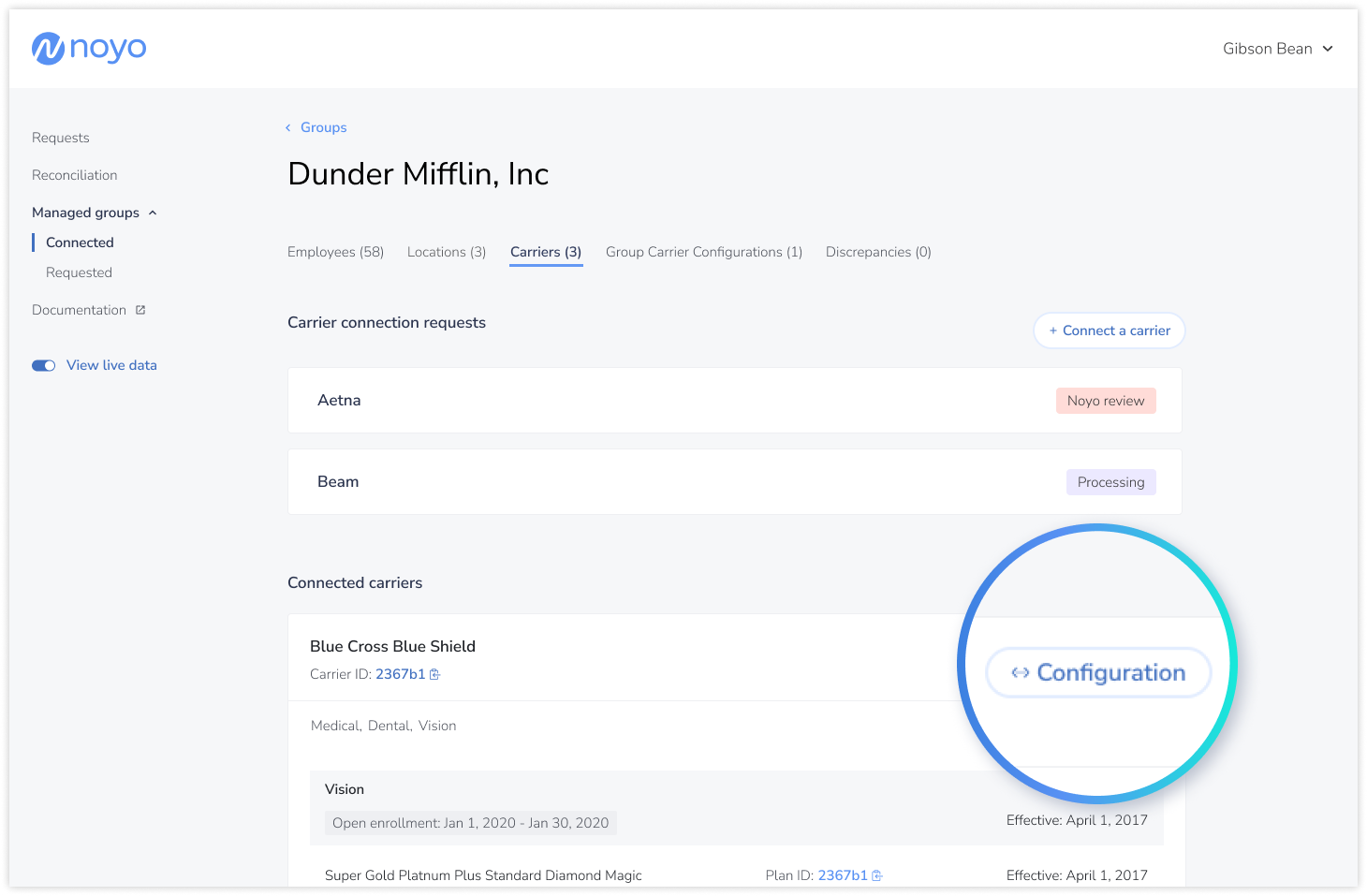 The configuration information we've pulled from the carrier appears alongside other key items like Carrier ID and Group ID.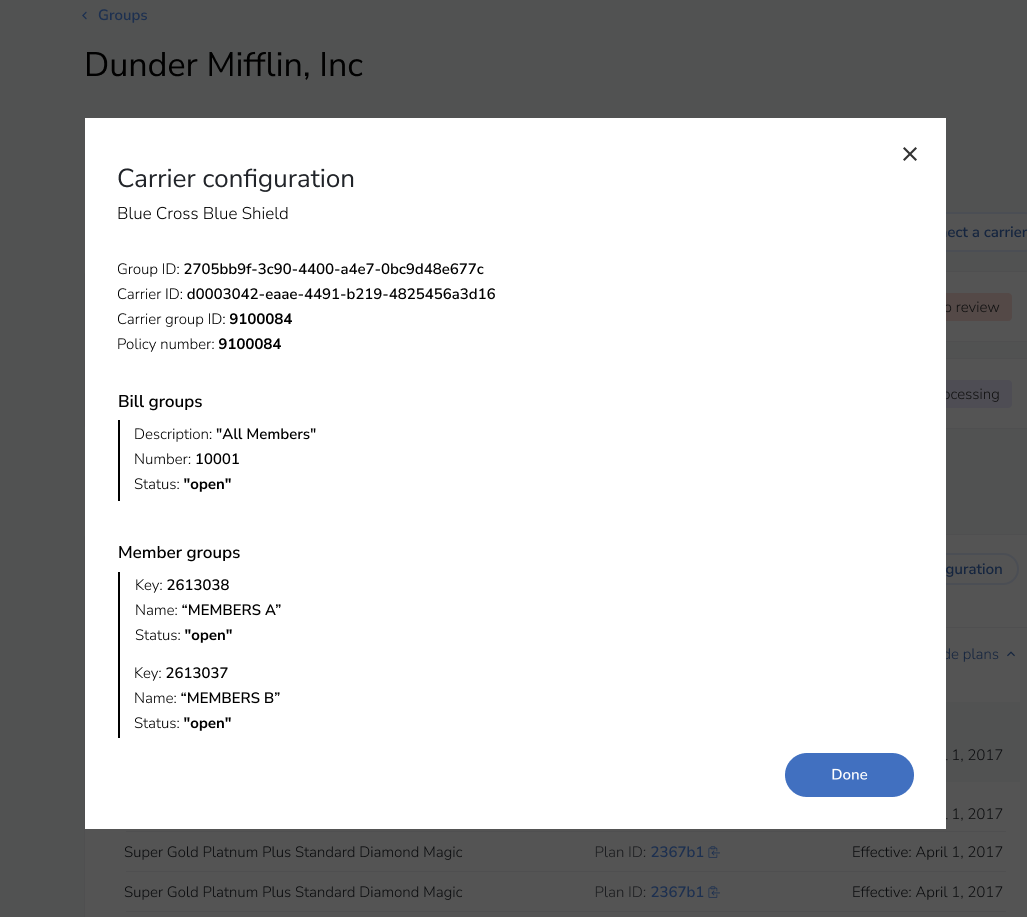 Next up: detailed statuses for each member change
Our first update for the new year will be API endpoints that give you a granular look at what's happening with a member change at any time. Has a new hire enrollment been sent to the carrier? Accepted by the carrier? Confirmed by Noyo? Soon you'll get a detailed history of each change (including timestamps) as it moves through the steps of successful processing. We're excited for you to experience this big leap toward cleaner, more transparent benefits data!
Stay tuned and we'll see you in 2023!