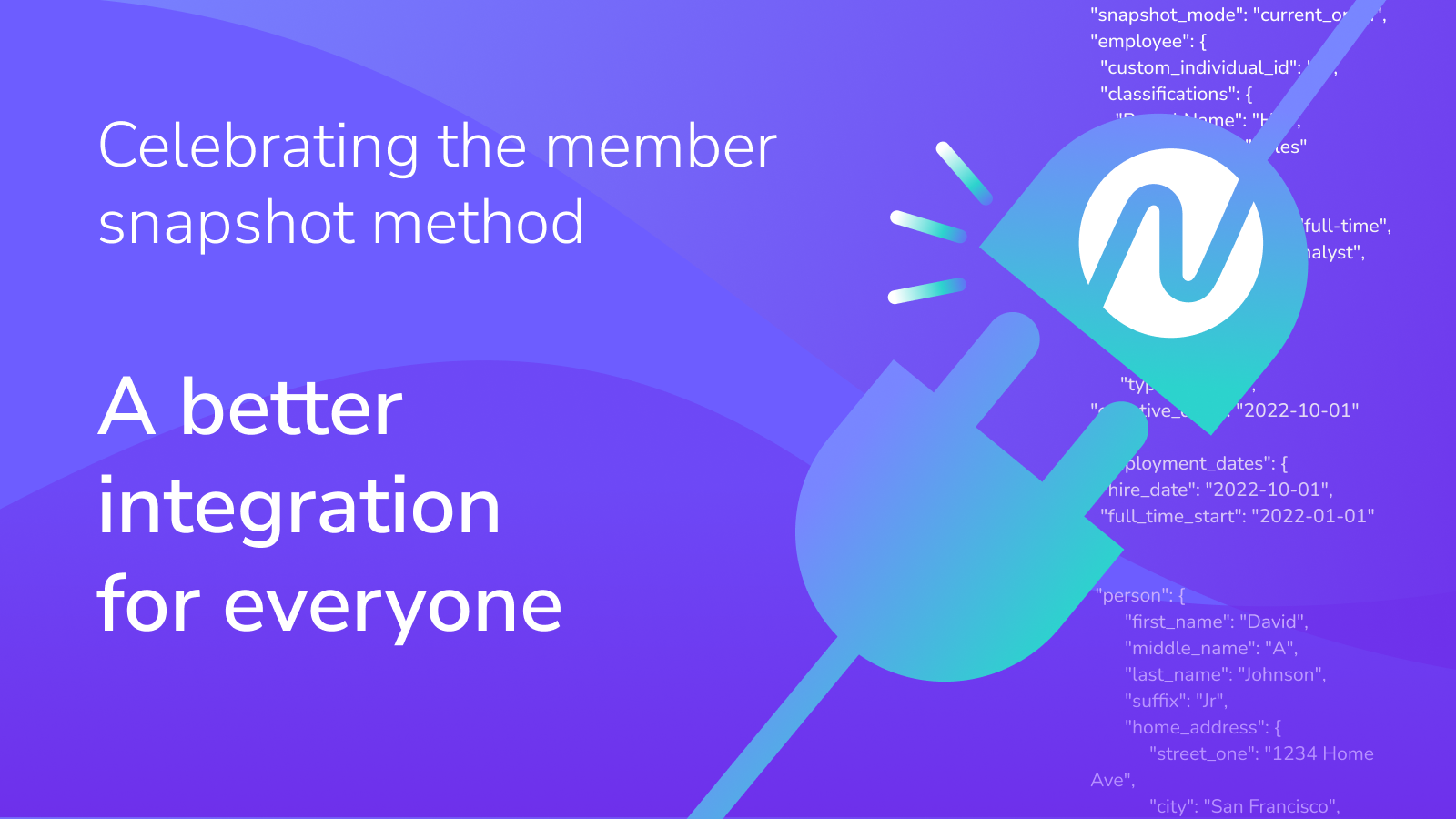 DATE:

AUTHOR:

Nicole Shelby
API
Connections & integrations
Company news
Celebrating the launch of our new integration method
DATE:
AUTHOR: Nicole Shelby
Today we're excited to announce the official launch of our new "member snapshot" method of integration! If you're already a Noyo partner you've probably heard a lot about member snapshot over the past few months, and today we're finally going public!
Check out our blog post for a refresher on how the member snapshot method works and how it dramatically simplifies integrations and ongoing member maintenance by unifying all changes into a single data format.
Not only does member snapshot make integrations and changes easier, it's also allowed us to make two often-requested upgrades to the Noyo experience:
A better way to link member records
During the initial integration with Noyo, our ben-admin partners need to link their existing member records with those that we've pulled from the carrier so that all our systems are speaking the same language. Rather than linking based on SSNs (as carriers traditionally do), Noyo uses IDs that are stored in our and the ben-admin's system.
Using IDs ensures that we can track members accurately, no matter what. Our newest release enables our ben-admin partners to send us their own internal IDs that are already being used to track employees. We automatically match those IDs with the right employee in our system and establish the link. This way, Noyo fits in seamlessly with existing architecture and we can submit a wide universe of changes for each person–including SSN changes!–without creating a duplicate member or an issue at the carrier.
Upgrades across our carrier network
We're hard at work making sure the entire Noyo network of connected carriers is compatible with member snapshot. Upgrades to Ameritas, Guardian, and The Standard are complete, and we're accelerating our work on the next set of carriers (which includes Kaiser Permanente, Beam, and Principal Financial Group).
As we upgrade these connections, we'll also be adding COBRA support wherever possible. The member snapshot method makes it easy for you to include COBRA enrollment changes just like any other, with a single call to the member snapshot endpoint. We've introduced COBRA support for member snapshots with Ameritas and Guardian coverage, and more are on the way!
Get the details
For the newest version of our member snapshot Developer Guide, a demo of automatic member linking, or a look at how COBRA works, just reach out to your Customer Success Manager and they'll be happy to help.